When I was a kid, growing up in a small town on the outskirts of suburban Detroit, we would run wild all summer. Our summer days consisted of exploring the nearby fields and woods, swimming in the neighborhood lake, playing tag, climbing trees and riding our bikes. When dusk rolled around, we'd all hear our mothers shouting our names and we'd dash home, tuckered out, but ready to repeat our adventures the next day.
A few times each summer, we'd hear a different kind of sound. A sound that made our hearts race with excitement. It was the sweet, magical song of the ice cream truck.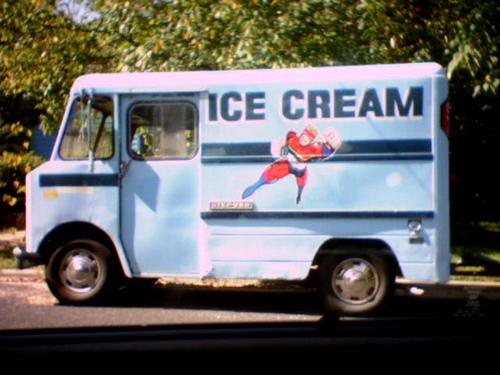 As soon as we'd hear it approaching, we'd all sprint back to our homes, dig in the dollar jar, then race back out, chasing it around the neighborhood, terrified that we'd miss our chance to take our pick from the assortment of goodies like ice cream sandwiches and the ever-favorite "bomb pop" (remember the red, white and blue one?). It was a glorious, twice-a-year treat.*
Oh, but how the times have changed.
I now live in a major city (Chicago) where the ice cream man men make their appearance, not twice a year, but several times a day at very strategic locations, like outside of schools or within the walls of our neighborhood playground. Seriously?
And they are always ringing their little bell, desperate to get the kids' attention.
Now, let me be clear. I have no problem with ice cream. I love it. My whole family loves it. We all scream for ice cream.
What I don't love is it being dangled in our face every time we blink. Quite frankly, it makes my job as a mom that much harder. I have no problem saying no to my kids, but on days when there is an ice cream man lurking on every street, I need to be consistent, yet creative with how I deal with my kids' constant pleas.
I'm usually able to mitigate their requests by using rational excuses like "we have much better ice cream at home, which you can have after dinner" or "It's time to play now, not eat." I've also been known to tell the little white lie now and then ("I don't have any cash on me right now").
I've also had great success with this little diversion: "It's not time for ice cream right now, but we can have Watermelon on a Stick!" Ah, watermelon on a stick. My savior. Simply take a slice of watermelon, poke a popsicle stick in the bottom of it and my kids go ga-ga.
But, heck. It's only June. I know there will be days this summer where I'll give in. And that's okay. In fact, I have to remind myself that I sometimes should give in (within limits). Because when a food is completely off-limits, but visible, don't we all just crave it more?
* For what it's worth, my mom swears the ice cream truck came to our neighborhood much more than twice a summer. But in my memory, it was a rare occasion. So I'm sticking with my version.